For your refrigerator:
This sketch is suitable for printing and putting up on your refrig, or office bulletin board, or on your partner's pillow, as a reminder that "carpe diem" may be the most important energy you can honor for yourself and ones you love.

Speaking of refrigerator, I would encourage you to take a few minutes to read an essay about eating and health. Offered (like the Garden House) as an alternative to a mainstream perspective.
Blackberries:
A commentary on going for the gold.
Geotourism and the Garden House
Are you a geotourist? If you are, you will be right at home at the Garden House. Rather than spend extra dollars on geotourism services which we won't charge you for, why not take those dollars, or the time you spent to earn them, and either financially support, or learn about, the efforts that have been, and still are, being taken to preserve and protect San Juan County by your Garden House hosts. If you support geotourism principles, please lend your weight to preserving a place deserving of your contributions. How? The journey toward an authentic geotourist activity (fear not: there's plenty more when you get here) is just one click away.

Beyond the Garden House:
Things to do on Orcas
Here is a short list of things to consider on Orcas, as seen through a biased local's eyes.
Many Hands Make Light Work
There are thousands of non-profits that are running on empty. If you don't have a favorite one (or more!), please consider adopting Children's House on Orcas, the oldest early childhood education facility in San Juan County as your benefactee. If half of the people who read this web page sent ten dollars to Childrens House, under the "random acts of kindness" mantra, the benefits to the children (6 weeks to 6 years) of working parents living in the U.S. county (yes, San Juan County) that has the greatest gap between the haves and the have-nots of all counties in the country would be enormous.

Imagine the joy you will bring, the gratitude you will evoke. Thanks.

Joe's Best Picks
There are certain people who do truly outstanding work. Work that defines terms like "extraordinary", or "fantastic" or "unbelievable". The people listed here are both my friends and my mentors. Judge for yourself.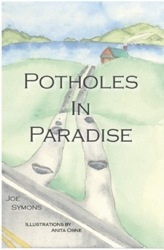 Living on Orcas Island offers many opportunities for self-discovery, most of which cannot be avoided or denied without consequence. Many who visit Orcas see it as a refuge, an escape, a retreat, a magical playground. Indeed it is, tho often less so for many who call it their home. One of the reasons for this is the difficulty in finding meaningful, as well as economically viable, work. I've written a book about Orcas which discusses this and many other realities of island living for those who would like an insider's perspective on this lovely, and complex, island. Entitled Potholes in Paradise, the 210 page book, published in 2009, deconstructs the image of Paradise into its component parts with the intent of showing what community life is really like living on a pristine rural island in one of the most beautiful locations in the country. Electronic copies are available; a pdf file ($8.95) directly from me (just email) or as an iBook .
The future of San Juan County: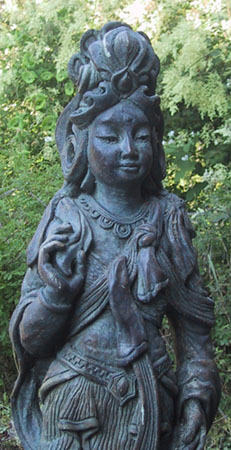 I have served as the chairman of the San Juan County Comprehensive Plan citizen advisory committee for Orcas Island. The county, by participating in Washington State's Growth Management Act, is slowly and gracelessly engaged in rewriting its future. I've been finding myself animated about the future of the island, the future of the county, and, in general, the future of beautiful places throughout the world as I watched my committee, and the community, struggle with the first of the Kubla-Ross "stages of change" (denial) in recognizing, much less resolving, largely unarticulated, tho deeply felt, personal/community boundary issues. I've written several essays which discuss the growth issues facing San Juan County, and by extension almost anywhere, and suggest possible routes to their solution. Should you find any of this material interesting or useful, both for contemplation or for application to your situation, where ever you live, I'd appreciate your feedback. You might also want to learn about the options for land conservation provided by The San Juan Preservation Trust. If you really want to learn about the future of San Juan County, read the appeals of the San Juan County Comprehensive Plan. The details of the appeal process, the appellants, the County's response, and the conclusion of the Western Washington Growth Management Hearings Board, are all posted here. The bottom line is simple. If you read the guest comments, you'll see that visitors love it here. You wouldn't be reading this if you weren't at least attracted to this place and wonder about its future, since you might come here, or have been here and would like to imagine that when you return, it will be then more or less what it is now. To those of us who see San Juan County as a national treasure to be preserved and shared, the rubber meets the road right on top of the Comprehensive Plan. You can help. Take a few minutes. Read this material. Imagine that your unexpected letter might tip the county council into doing the right thing. Score another point for a random act of unexpected kindness.

The letter here frames the essential growth issue before the county, which, briefly, is the personal, internal conflict created by both wanting the quality of life that exists today to last in perpetuity while at the same time fearing the loss of autonomy (and income) implied by governmental regulation required to achieve this same quality of life objective. It's the "having your cake and eating it too" syndrome.

The essay here suggests a solution while reminding us that there's no free lunch.

The essay here describes why regulation is a response to both growth and the characteristic that many of us have to not do the right thing; the piece starts by reflecting on the white striping lines in ferry lane parking lots.

The essay here discusses the idea of buying our future, of being proactive rather than inactive or reactive.

The essay here points out that all the effort being devoted to keep things as they are will, if successul, result in nothing visible, nothing tangible, nothing new. As a result, who can get excited about working hard to achieve what we already have?
Our Partnerships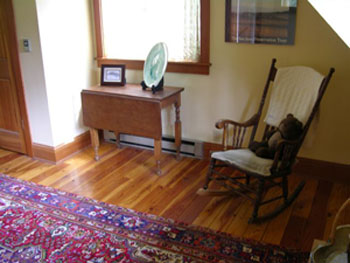 We support a number of organizations that do important work we don't have time to do ourselves. Part of that work helps us wake up, part of that work brings joy--each of these qualities has no maximum limit, each can be increased to the benefit of self and others. You are invited to explore these to determine if the work they do might be worthy of your investment in time, funds, or recommendation.
The San Juan Preservation Trust, a non-profit land trust, helps preserve San Juan County by assisting landowners in dedicating conservation easements on their property.



KNKX, NPR and Jazz for western Washington, 88.5 on the fm dial, serves up large doses of musical joy.



Finding others to do the work you believe in takes time. You can leverage your time by exploring the Charity Navigator web site. They help charitable givers (hopefully you) make wise decisions by providing comprehensive, objective ratings and analysis of the financial health of many charities. The goal, like microfinance, (see, for example, Finca), is the fish teacher model (give a man a fish and he is hungry tomorrow; teach a man to fish and he is never hungry again.)


You can also make investments in microfinancing institutions such as kiva.org. These investments bring you a return of way more than money. You help level the world's economic playing field, reminding me of the phrase "woman who chops her own wood warms herself twice."
Lend your computer's shoulder to the wheel to solve some immediate problems without compromising security or efficiency.

Join the Centripetus Family (and thousands of others) in donating unused computer processing time toward creating better (more nutritious, more disease and/or drought tolerant) rice, fighting aids, conquering cancer, figuring out solutions to Alzheimers and Parkinsons. Curious? Learn about and join the World Community Grid.

We encourage democracy in action. Voting once a year or less is just not enough. You deserve more, and so does the country. One place to start is to contact your local congressperson and senators. Do you know who these people are? Find your senators here.

Kind Remarks
The web site has been created with an intention to inform you about the Garden House while avoiding the fluff generally associated with promotion. Here's a comment that suggests the goal has been met:
"I absolutely love your web-site. It has to be the most amusing and original one I've seen while hunting for a place to stay on Orcas."

If you'd like to suggest modifications, improvements, additions, or comments on the site, know they will be appreciated.
The small print:
This web site is designed, updated and managed by Joe Symons
© 2023 centripetus