Garden House Guest Late Arrival Information
Guests who arrive on Orcas Island in the evening may want to stop in Eastsound before they head out to the Garden House (which is past Eastsound) in order to obtain dinner and/or groceries.
The WSF website has information on which boats are on which ferry runs. Galley service on each ferry boat is sporadic; you may not be able to eat on the ferry, so plan accordingly if possible.


A comprehensive list of restaurants with hours and phone numbers may guide some evening choices; note that the area code for all these phone numbers is 360.

The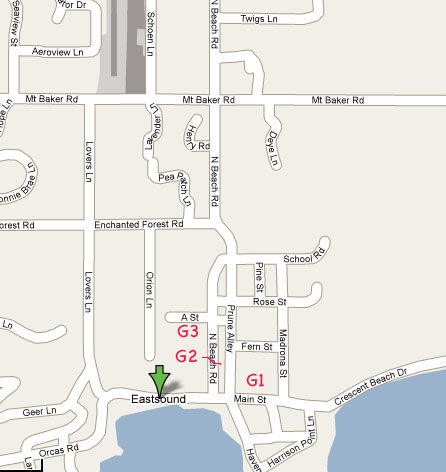 map of Eastsound shows the location of 3 Grocery stores:
G1 Island Market, Prune Alley, 376-6000 8am - 9pm M-Sat (photo)
G2 Orcas Food Coop, North Beach Road
G3 Village Stop (convenience store), A Street, 376-2093 6:30am-11pm (photo)
When entering the Eastsound area (see map), take a right off of Orcas Road (you'll be following the vast majority of ferry traffic) on to Main Street (see Google's Green Arrow on the map), rather than forking left on to Lover's Lane (which will take you around the outside of Eastsound past the airport noted in the upper left-center of the map).
It is about a 25 minute drive from Eastsound to the Garden House.
No matter when you get here, you are always welcome. The Garden House door is unlocked and sensor lights will guide your way.
© 2014 Garden House


Return to Garden House on Orcas