Garden House on Orcas Island Green Power Information
The Garden House is committed to minimizing its carbon footprint regarding energy consumption. The two carbon-generating energy sources used for operations are propane (for the gas stove in the kitchen) and electricity (lights, hot water, heat, hot tub, administration, etc.)
Electrical power offsets are puchased from Opalco, the coop electric utility serving the San Juan Islands. The certificate below shows that all kilowatthours are offset, either by local PV sources in the county, by small hydro and/or windpower resources in central Washington and by BPA (Bonneville hydro, which is ~90% green).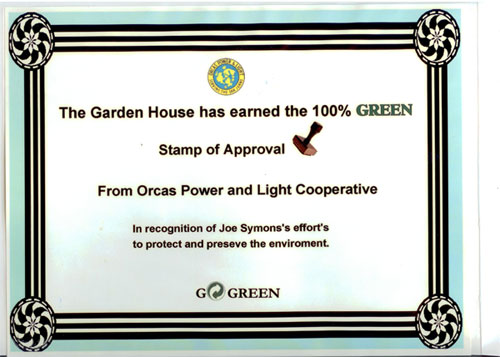 Demand Side Management
Separate from ensuring that the electricty running in the Garden House veins is 100% renewable (i.e., "green"), there is a strong efficiency and conservation focus quietly at work, reducing electrical demand when and where possible. The Garden House has an Energy Star refrigerator purchased in 2008. CFLs are everywhere. The building is heavily insulated, including all interior walls and floors. As noted in the guest orientation materials, the hot tub and the hot water heater are managed to minimize power consumption during peak periods. By so doing, the peak load on the system is reduced, thus lowering the need for additional central power plants (that produce carbon dioxide or nuclear waste as byproducts).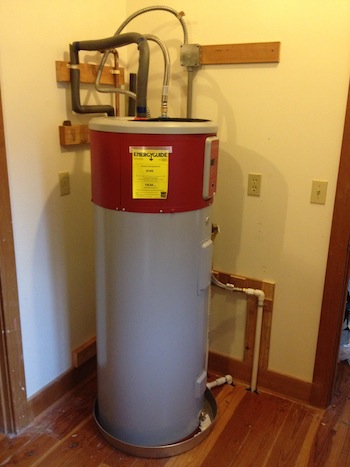 A heat pump hot water tank was installed in 2012, using approximately 60% less electricity than a standard electric hot water tank. Tours available!
There are three vampires in the Garden House: a music system, an alarm clock and a microwave clock. These are generally unplugged; guests are free to plug them in as needed.
A wood stove and free firewood allow the interested guest to heat the Garden House with 100% carbon neutral warm wood heat, bypassing the need for electrical energy to power the baseboard heaters.
The Energy-Star rated Fisher-Paykel washing machine spins linens virtually dry to the touch, thus requiring less electricity to dry them.

Communications with guests has switched from a paper/u.s. mail format to email format to improve speed and eliminate another form of carbon production.

During periods when the Garden House is unoccupied, several energy conservation methods are employed: hot tub power is off (except during freezing weather), heat lowered to 50°, refrigerator unplugged, hot water set to vacation mode (50°F).
Your suggestions for advancing these initiatives most welcome.
© 2015 centripetus


Return to Garden House on Orcas Island