Joe Symons, owner/manager of Garden House on Orcas Island
Joe Symons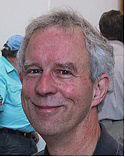 has been living on Orcas since 1970. He designed, built and operates the Garden House, runs the Hot Ice Studio, and continues to rattle cages regarding critical unresolved issues regarding the future of San Juan County. He has retired from 20 years as a volunteer firefighter. He has produced behind-the-scenes auction software which has been assisting the fundraising efforts of several non-profits on Orcas since 1995.

He has published a book entitled "Potholes in Paradise, An insider's view on people, money, technology, culture and community as played out in one of the most remote and beautiful islands in America"; you can learn more about it here.


Joe has embarked on a thousand mile adventure whose intention is to "move the middle" regarding an essential paradigm shift in the production and use of electrical energy in America, by creating short entertaining informative white board animation messages through his company Negawatt Media, which can be seen here. He triggered a conversation about climate change during a 2013 reunion at the Phillips Exeter Academy, where he graduated in 1963; current work can be seen at ESI Exeter.

He is currently president of the board of Island Stewards, an umbrella 501c3 non profit incubating and supporting tiny non-profits which add additional community support for Orcas Island.

He is learning jazz improv from Martin Lund, a world class musician living on Orcas Island.


Return to Garden House on Orcas Island.


© 2014 centripetus